HYDROGEN PURIFICATION

H2 recovery system from off gas and coke oven gas that has 3H (high purity, high recovery rate, and high pressure) properties
It has applied for the patent in November, 2005.
It was adopted for NEDO's energy-saving program (N-T method for hydrogen purification).
(Cooperating with Maruzen Petrochemical Co., Ltd. and Kanto Gakuin Univ.)
The partner for proof experiment is being recruited.
Characteristic

Naphthalene/tetralin, strong against dirt and cracking, are used as a reactive solution.
Not affected by impurities (BTX, sulfide, nitride, CO, etc.) in feed gas.
High pressure without using the compressor upto 3H (purity 99.5% or more, collection rate 99% or more, product pressures 5MPa).
Economical materials can be used due to the low temperature (400℃ or less).
Hydrogen Collection by Naphthalene/Tetralin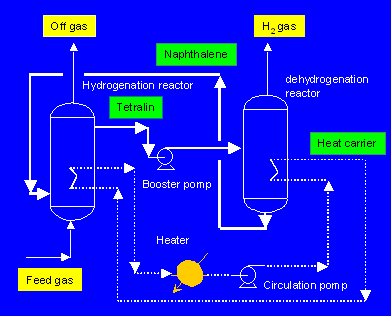 Hydrogen PSA Design Program
We have been jointly developing with JGC Corporation.
■ MAIN JOBS 
Plant Design


Basic design, Detailed design
Construction Manufacturing
Packings


Cellpack, Rachig ring
Pall ring, CMR
Calculation Services


Distillation, Heat exchanger,
Tray capacity, etc.